University life has changed incredibly over recent years. The landscape is constantly evolving and learners are re-evaluating what's important to them. Many young people are now not interested in material objects. They want, and expect, an experience.
This experience is one that educates them about their chosen career pathway, connects them with their city or town. It also gives insight into the industry or sector they are training for, and reflects their values in life – an experience that will help them to grow. The university years are some of the most formative in life, and young people just won't risk compromising.
But in a world that has become almost exclusively digitised, marketing teams have the tough task of not only grabbing the attention of future students, but keeping it over an extended period of time.
It starts with instilling the desire in prospective students to first apply, but then engaging them in their offering to ensure their university is the first choice when students get the required grades. And it doesn't stop there… there's the responsibility to then deliver the incredible experience. To step up to fulfill the students' academic needs. They should also be supporting their social wellbeing to keep them feeling safe, happy and content whilst there.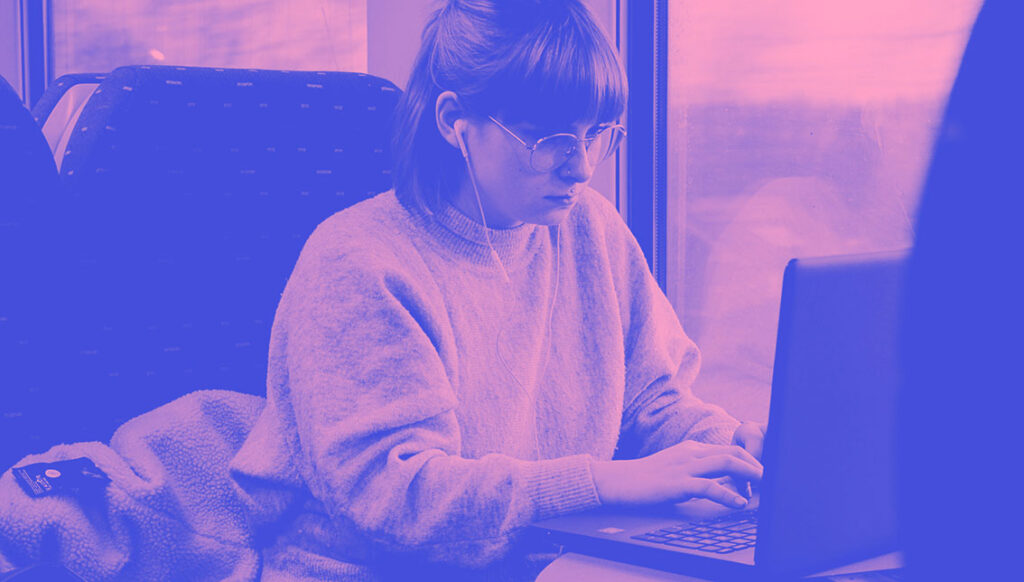 As we said, it's a very tough task, but we're in this together with universities. The key is a solid content strategy that cleverly positions university content marketing at every stage of the student journey, but also includes having the right conversations.
Universities all around the world are now mindful that the voice of their learners is paramount to the voice of their institution. They are taking the progressive approach of placing the learner at the heart of their brands and unifying a common cause. But before we delve deeper into that, we want to make a really important point…
Enrolment and marketing – unite!
We need to make sure teams aren't working in isolation or disrupted work environments, as this can cause a disconnect that leads to ineffective audience journey roadmaps and enrolment processes. Instead, we need to unite as a community, communicating and working in an inclusive, immersive, fun and connected way.
But how? How do we get everyone playing in the same playground? Here at Seed, we've created a powerful and intelligent marketing life cycle that naturally brings teams together, effectively using the skillsets of different departments to allow them to work in a unified way. What's more, using this life cycle, together with the power of carefully positioned content, will improve student engagement, enrolment, and the overall experience while at university, and even beyond in the alumni years.
So let's dive in and have a look at the different stages of the marketing life cycle…
The university marketing life cycle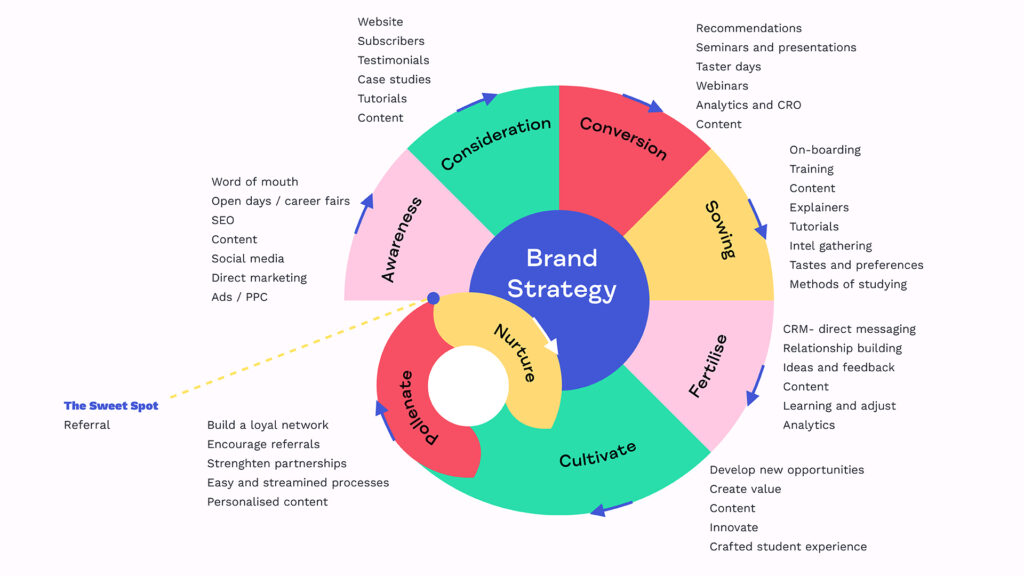 The first thing you'll notice is that this is not a sales funnel that people follow from the top and fall out the bottom of. University should be a lifelong experience, so we don't want people falling off the radar when they leave. So think of this as a flywheel, driven by a brand strategy cog in the middle. This cog turns prospective students into engaged, thriving students, who finally become alumni that will advocate for your university, keeping the life cycle flywheel turning.
Let's break it down section by section, starting with the central cog…
Brand strategy – the glue that keeps it all together
Brand strategy should always be written in pencil as it's always changing. But it has to be there. It's the central cog – without it, the wheel won't turn. And if the cog gets rusty, the journey becomes harder, bumpier, more disjointed and less enjoyable. So, it has to be maintained and updated regularly.
An integral point of any brand strategy and marketing life cycle is engaging content that will build rapport and create a sense of belonging. It's what breeds and communicates the culture and experience we're trying to create for students. So not only should it be included in the brand strategy itself, but in every separate stage of the marketing life cycle.
And who better to help build, develop and nurture this than the students themselves? They'll feed back exactly what type of content they want, and then we become the facilitators – creating and communicating it. So not only do we want the marketing and enrolment teams in the playground, we want students too. Let them be the drivers behind the strategy.
We recently led an FE learner focus group for the at University of Leicester and the findings were fascinating. One of the strong messages from the students was that they don't just want to hear about course information, but rather want deeper insight into their chosen career path and industry. What opportunities will open up to them at their university of choice? Getting this sort of information leads to an informed and much more effective brand strategy.
Now the cog is turning, let's look at the first stage of awareness…
Awareness – being seen
The awareness stage is all about exciting, thought-provoking and entertaining content to grab people's attention and get the university or institution on their radar. Content that serves as a stage for storytelling and puts the audience at the centre is an amazing tool. As are word of mouth and referrals. What better way to hear how great a university is than from its community? So let's use current students, as well as alumni, to create powerful messages.
We need to think carefully about how this content is dispersed: website, social media, direct marketing, email marketing, YouTube videos, paper ads, digital ads or PPC campaigns… the list is long. And, of course, SEO needs to be tip-top so the content gets picked up in Google searches.
Our recent blog post, 'Our Top 7 University Campaigns', showcases some universities that have really excelled at this stage of the wheel.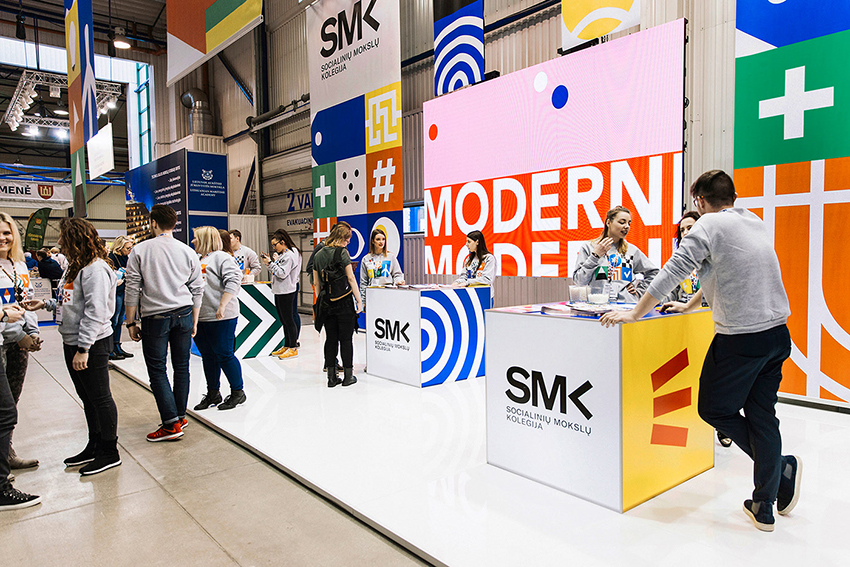 Consideration – answering questions
Consideration means questions. What will prospective students be asking themselves? What information will make them apply to one university over another? And not just the students.
Parents will naturally be involved, as their children go to them for advice, and from their own desire to want the very best for them.
But remember, as with everything else, we don't have long to answer these questions and grasp their attention. A university's ideal students will want to have a large number of initial questions and concerns satisfied before they ever speak with someone. So we need to have answers up front on your website and social media in the form of fun, relevant and educational content that informs them about the student life and experience they will get.
The enrolment team should be able to provide a wealth of questions young people might be asking, as they are on the frontline and closest to them. Again, testimonials and case studies are fantastic here, but remember, we should also be including content on career and industry insights. Giving potential students something to subscribe to is really effective here, so you can stay in touch and keep feeding them answers as more questions come up.
Conversion – crossing the line
The beauty of executing the consideration stage well is that the basics will already have been covered. So when online turns to offline and prospects actually attend an open day or interview, the enrolment team will be more empowered. The team will have more targeted, valuable conversations, drilling down in an extra personalised way.
And this is where the real tango between enrolment and marketing commences as they adopt an assignment selling approach. Enrolment gathers and analyses information, then passes it over to marketing, who uses it to create and deliver very targeted content across as many touchpoints as possible, until it eventually leads to course sign-ups.
On the open days themselves, the face-to-face environment can provide super-fun, engaging and interesting content that gives young people a chance to actually experience university life. Ideas include engaging talks, presentations and interactivity with well-placed, personable people. And afterwards, effective content can keep their attention and garner more engagement, such as pitches and presentations, and taster sessions and demos in the form of webinars. The more targeted the content at this stage, the better. So what about personalised videos? They are guaranteed to make someone feel special and more than just a number.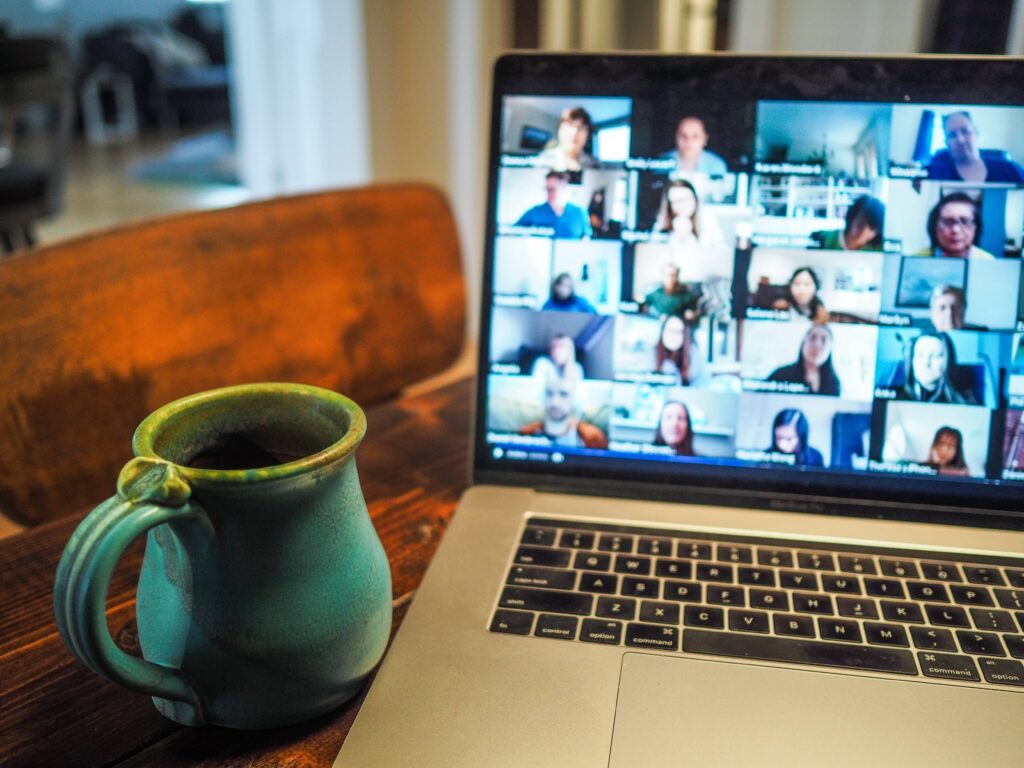 Sow – bedding in
At Seed, we love to talk about this process from the angle of growing things. So, we've got prospects across the conversion line – they are now our seeds that we need to sow. We need to treat them with care and look after them so that they will grow and thrive.
New students can easily be overwhelmed as they embark on a whole new journey. Now is the time to use content throughout the onboarding process to make them feel safe and help them settle. Explainer videos and tutorials are invaluable here. They can show students everything they need to know, from how to navigate their accommodation and campus to how to catch a local bus. They could show them around the best student haunts in town – and, importantly, how to get home safely at night.
But we can get much more granular in this stage by using data collated during the application and enrolment processes. And it's also where the digital and real worlds collide. While we may communicate to the student via digital means, it's really important to use it to drive them back out into the real world.
Enrolment will have information about students' hobbies and interests. So why not get the head of the university team to send a personalised video to a student who played hockey through secondary school? Or the university orchestra to do the same to the student who played violin throughout their childhood? In a world where it's too easy for students to sit on screens in their rooms, we have a responsibility to get them to reach out and connect with like-minded people.
Fertilise – breaking through
So now the seed has been sown and bedded in, it's time to fertilise to encourage it to break through and find a life of its own. It's more of the same as the sowing stage, but even more focused. The aim here is to build the student experience into an enriching and meaningful one as students settle and adjust to their new life and surroundings.
Again, the enrolment CRM and analytics are our friend here so that we can make this stage as personalised as possible to start to build really strong relationships. We can use content to show students they matter, from simply sending a happy birthday message to leading them towards being active in what they feel passionate about. These can often be environmental issues, technology and innovation, or any other area where they could be changemakers and see the contribution their life at university is making.
Cultivate – growing strong
The joy of seeing shoots start to appear from soil motivates us to carry on cultivating their growth. This is just how we should react when students start to find their stride in university life. Continuing to feed them targeted content that takes their experiences to an even deeper and more rewarding level will only make them go from strength to strength.
There's the opportunity to be quite innovative here and develop real value – for the students and as a university. Tracking students' behaviour and drilling down into what really makes them tick will open opportunities to craft some really great new experiences for them.
What about sending them messages, suggesting what they might want to do that evening? 'We saw you're interested in Thai cooking. Why not have dinner at the new noodle bar on campus tonight?' or 'Since you're studying biology, we thought you might like to watch this film at the student cinema'.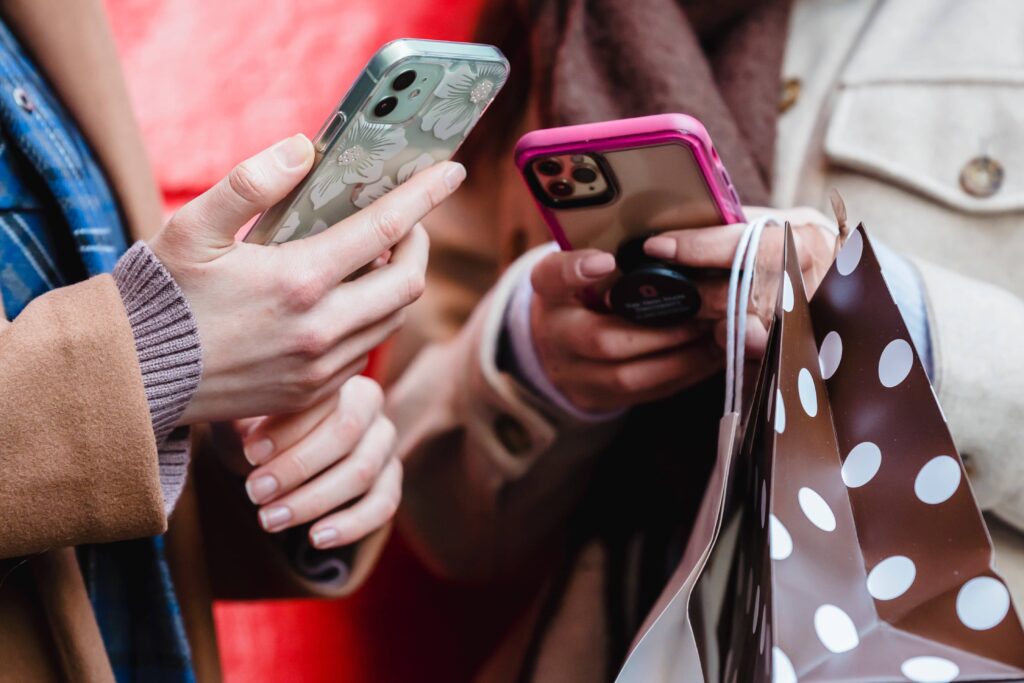 We're certainly not encouraging a 'big brother' approach here. However, these are young people who have grown up in digital times, and who, to some extent, will enjoy having options served up on a plate. But obviously, balance is key here.
And let's not forget that what we have here is a growing group of people who are thriving, so let's leverage that and get them creating content too! There are lots of fun ideas – podcasts, videos, blogs, social media posts. Nothing solidifies a community more than being active within it.
Pollinate – flourishing
Just as students are flourishing, we want pollination to happen – where they pass their positive experience onto others so that the following will spread and grow into a stronger, more loyal network.
We should actively be creating content that asks current thriving students to refer on to others, as well as putting opportunities in front of them that will spread the university's name. There are those classic university hoodies that all students wear because their university becomes a part of their identity that they are immensely proud of. This stage is where we should be strengthening partnerships before students spread their wings – so that, when they do, they are still advocating.
Nurture – keeping connected
Lastly, once students become alumni, we should continue to nurture them by keeping connected and investing in them. Establishing great partnerships means we are leaving the door open for them to come back for postgraduate opportunities and collaborations. What's more, this is where the real sweet spot for word of mouth lies and where it is most powerful. This is because it sparks more awareness and sets the whole flywheel spinning again to create a totally fresh life cycle.
Time to develop a successful university content marketing strategy?
At Seed, we love to work in close collaboration with universities(as well as other HE and FE institutions). We guide their teams to work in unison and help them craft content marketing strategies that create an enriching and successful student journey. Get in touch and book a discovery call? 
---
Like this article? We've got loads more where that came from. Sign up to Project: Insight, our fortnightly email digest for best practices in research dissemination and creative innovation for projects.

---
Written in collaboration with Jo Berthalot